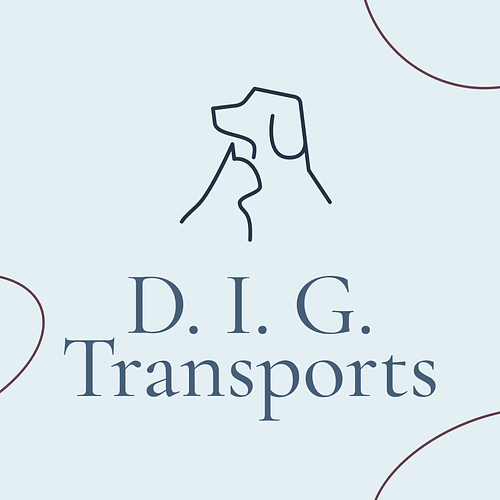 DIG Transports
Owner name

Tim Davis

Location

Operating authority

Not Provided

Transport Types

Small Animal

Website

Company Bio

We've been doing private transport and delivery for over 4 years and are expanding our business. My brother and I started this company as a family operated, Veteran owned business focusing on expedited delivery and private animal transportation across North America. Our main focus is door-to-door ground transport for all pet sizes and breeds and "Flight Nanny" services for smaller breeds.

We are USDA registered, fully insured and Red Cross Pet First Aid trained. We pride ourselves on our customer service and communication prior to, and during the transport of your pet. We personally own several family pets and understand the trust your are placing in us with a loved member of your family.

We transport no more than 3 animals at a time, or one family of pets, and offer VIP Service (Private Transport) of single pets for an additional fee. During our drives, we take breaks approximately every 4 hours, weather permitting, to allow everyone the opportunity to stretch their legs and relieve themselves, if needed. We also offer "Flight Nanny" services for small breeds (must meet airline cabin pet requirements).

We will coordinate feeding schedules with you and adhere to all dietary and medical needs. We will provide filtered water during transport. We ensure that our transport vehicles are thoroughly cleaned before and after each transport using USDA approved disinfectant.

All deliveries within a 300 mile radius of Charlotte, NC will be delivered same day. Pet friendly hotels will be utilized for any trips that require overnight transports. On trips that require multiple days, we often perform a tandem drive. In such cases, regular stops will be made, however, hotels may not be utilized.

We request a health certificate for all transports that is dated no more than 10 days prior to the shipping date.

During your pets trip, you can expect regular check-ins and we provide GPS tracking.

We accept all major credit cards, Apple Pay, Google Pay, ACH and Zelle. We do request a 25% deposit at time of booking. This booking fee is non-refundable if cancelled within less than 72 hours of scheduled pickup/delivery.  The remaining amount is due at time of pick-up.
Hiring a Safe Animal Transporter: A Quick Guide
When hiring an animal transport company, ensure they meet your pet's safety requirements. Research thoroughly, use platforms like Hauling Buddies, and choose a transporter that fits your needs. This guide aims to help you safely move your animals to their next destination.
Read more