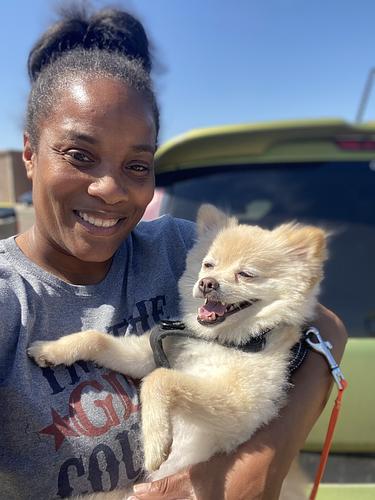 Shugga Wuggas Pet Transport
Owner name

Rosie Moore

Location

Transport Types

Livestock

Small Animal

Company Bio

Welcome to Shugga Wuggas Pet Transport!

My name is Rosie, owner of Shugga Wuggas Pet Transport.  Located in the Kenai Peninsula, Alaska, Shugga Wuggas Pet Transport is Veteran Owned and Operated business taking great pride in delivering pets to their families.  I am a lover of all pets that are cute, four-legged, can snuggle and give lots of forehead kisses.

With that being said, you can rest assure your pet will be in safe and loving hands with me.  Your pet will not be treated like cargo but as a member of my family.

For ground transportation, I cover the lower 48 states and Canada. I also provide confirmed domestic and international flight nanny services. No matter the distance, short or long, I will provide safe reliable transportation for your pet. During your pets' travels, he or she will receive the greatest care while traveling along with lots of hugs, rubs and forehead kisses. My priorities are the safety/welfare of your pet and deadlines.

SERVICES PROVIDED:
Long distance transports over 1000 miles will require a stop for me to rest (either a few hours or overnight stay) for not only my safety but for the safety of your pet during travel.

During transport, I stop every 3 to 4 hours for potty breaks and a walk unless pup lets me know a head of time. If I need to stop and stay overnight, I stay at pet friendly Airbnb's so pup can come inside and have a run of the house and enjoy free time. I keep in contact with you and send random pictures throughout the trip.

For flight nanny service, all flights are confirmed, and airport pick up and drop off only.

Rest assure that your pet will arrive to you safely. I share my location with you along the journey using Life 360 and sharing my location with iPhone User's.

WEATHER AND RESCHEDULE:
If the weather is unsafe to drive, your date may be adjusted for safety reasons.

If unforeseen circumstance occur your date may be rescheduled.

WINTER ADVISORY FOR ALASKA TRANSPORTS:
From October to April, winter rates are $1.25 per mile. All Alaskan transports have to be planned out due to snow, ice on the roads, possible avalanches, freezing temperatures, overnight stays and closures of gas stations when driving through Alaska, the Yukon, British Columbia and Alberta. During the winter months it is extremely important that we consider the safety of the transporter and pets traveling in these conditions.

RATE/PAYMENT:
For ground transportation, my rate is $1.00 per mile for 2 pets. Additional pets will be $50-$100 per pet depending on the size. My rate covers gas, mileage, vehicle maintenance, tolls and my hourly travel time.

For flight nanny services my rate is $350 domestic/$550 international flight nanny fee plus airline ticket cost & pet fee.

Once the pickup/delivery is booked, payment in full is required per USDA regulations for pets.

Once bid is accepted, you will receive an invoice for payment and a pet transportation contract.

Should you choose to cancel within 24 hours after confirmed booking, you will be charged $150 cancellation fee and refund the remaining amount of your payment.

Thank you for considering and entrusting your pet with Shugga Wuggas Pet Transport.


Hiring a Safe Animal Transporter: A Quick Guide
When hiring an animal transport company, ensure they meet your pet's safety requirements. Research thoroughly, use platforms like Hauling Buddies, and choose a transporter that fits your needs. This guide aims to help you safely move your animals to their next destination.
Read more